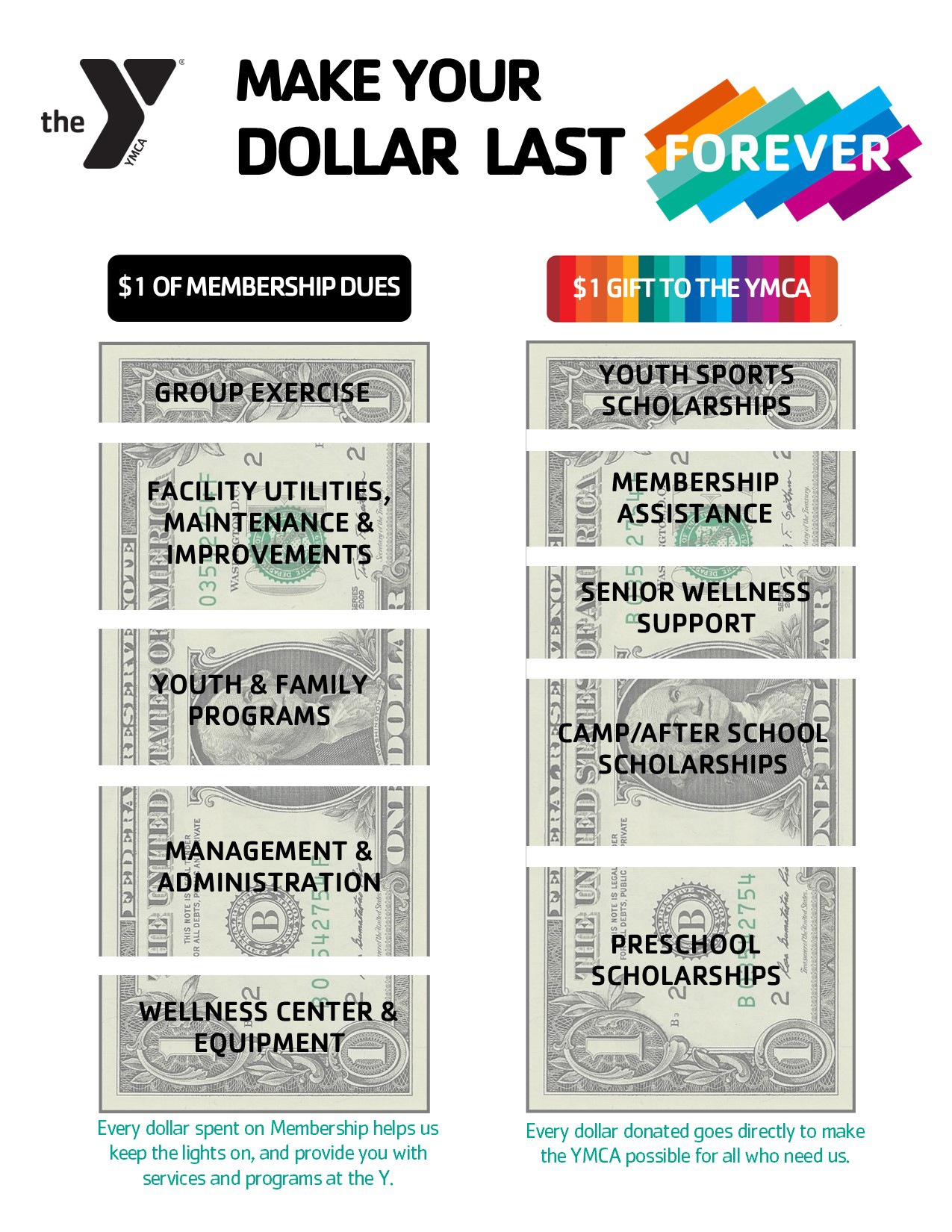 Support the mission of the Washington County Family YMCA with these programs.
Round Up Campaign

As a non-profit organization, the Washington County Family YMCA relies on donor funding each year. In 2021, the Y is launching a ROUND UP campaign to help support programs used by members and non-members in our community. Your monetary gift will assist adults, preschoolers, seniors, and youth programming, as well as financial aid for memberships.
We believe that the YMCA is here for EVERYONE. Your ROUND UP dollars provide opportunities to develop a rich, lifelong focus on health, wellness, social responsibility and youth development. Your dollar WILL make a difference in the lives of others. Contact the Y's Front Desk Representative by stopping by the front desk or calling 812-883-9622 to begin your membership round up.
Click here to download the Round Up Campaign Flyer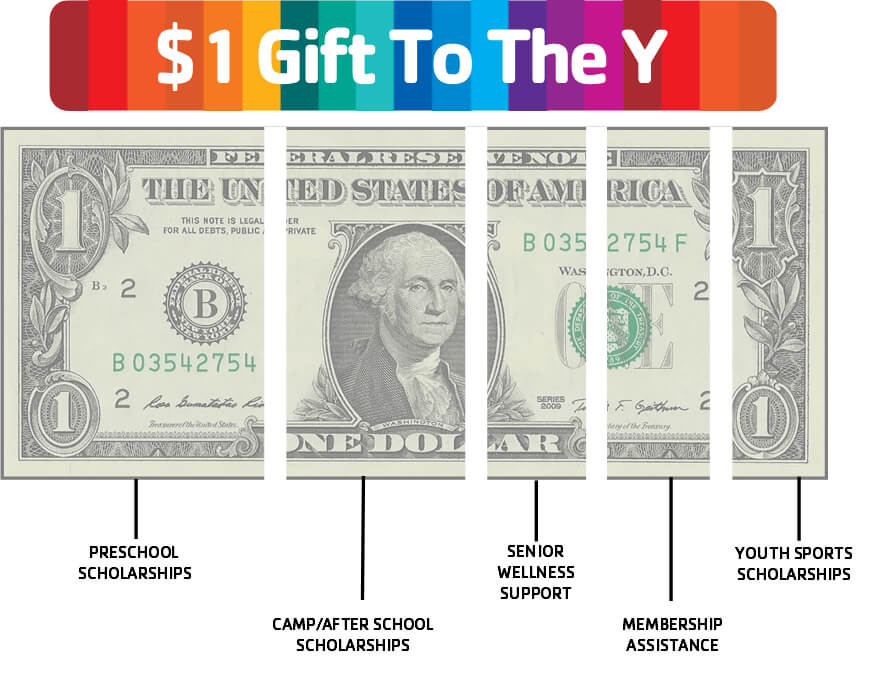 Amazon Smile Program

How to Use Amazon Smile

Online shopping is making everyday life easier and easier. Out of paper towels? Need a last minute costume for your kids play at the end of the week? Searching for that perfect Christmas present? More and more of us are using Amazon to help fulfill these last minute needs as it can be on our doorstep in no time. Did you know that you can shop til' you drop at Amazon while providing support for your community through the Washington County Family YMCA? When you visit Amazon via smile.amazon.com, a portion of your Amazon purchase is donated to the Washington County Family YMCA. So no matter if you're refilling the necessities at home or checking off everything on your Cyber Monday list, you'll be helping to provide impactful experiences to families every time you shop. PLUS, it doesn't cost you a thing.
How to Select the Washington County Family YMCA as Your Charity of choice
1) Visit smile.amazon.com
2) Sign into your Amazon account as you normally would.
3) Under "Accounts & Lists" in the main menu bar, select "Your Account".
4) Under "Other Programs" select "Change your charity".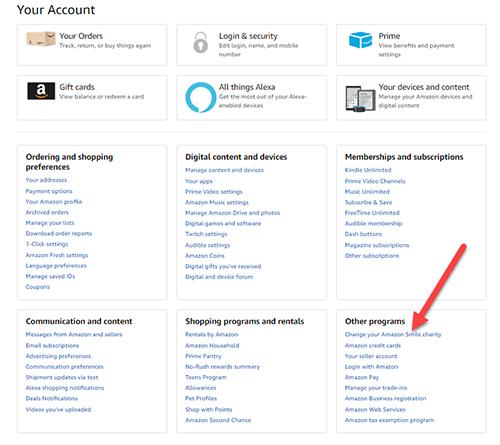 5) Enter "Washington County Family YMCA" into the charity search bar.
6) Select Washington County Family YMCA located in Salem, IN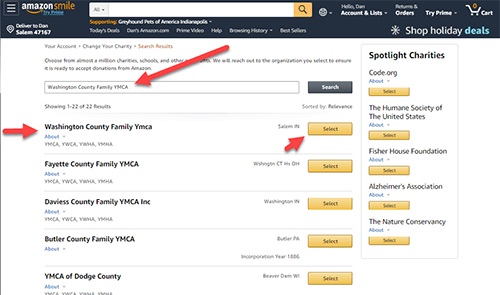 7) You're all set! Shop as you normally would while providing life-changing services to your community!

In order for your Amazon order to qualify, it must be made through Amazon Smile. Unfortunately, orders made through regular Amazon won't qualify. Fortunately, setting up bookmarks and redirects is easy.
Redirects
By installing a plug-in that automatically redirects you to smile.amazon.com every time you visit Amazon, you can ensure all your purchases help benefit the Washington County Family YMCA.
For Chrome users
Install the Smile Always chrome extension.
1.Visit http://www.smilealways.io/
2. Click "Available in the webstore"
3. Then click the blue "Add to chrome" button
4. And you're done! Everytime you try to visit Amazon, you'll be redirected to smile.amazon.com instead.
For Safari users
Install the KeepOnSmiling extension
1. Visit this site: https://github.com/bosmacs/KeepOnSmiling/releases
2. Under 1.2, under assets select "keeponsmiling.safariextz". It will download an extension
3. Click on the extension in your downloads folder
4. Select "trust" and add the extension

If you regularly use bookmarks and favorites to navigate the web:
Visit smile.amazon.com.
Create a bookmark or favorite. If you currently have Amazon bookmarked or favorited, replace it with the smile.amazon.com link.
Setting Up Amazon Smile on Mobile
If you shop at Amazon using your mobile device, you can still use Amazon Smile and help support your community through the Y.
From your Browser
If you regularly shop using Amazon using your mobile browser, simply navigate to smile.amazon.com and set a bookmark. Each time you open a new tab, click on your Amazon smile bookmark or enter "smile.amazon.com" as the url.
From the Amazon Shopping App
Apple Products
Unfortunately, you can't use Amazon smile directly through the Amazon app, but there are 2 easy workarounds.
Replace the Amazon app with a link to the Amazon Smile mobile page. navigate to smile.amazon.com. On an iPhone, press the "share" button, then select "Add to HomeScreen."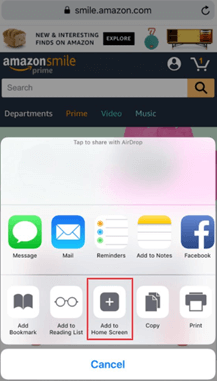 Android Products
1) In your Amazon App open your menu on the left side of the screen. Select "Settings".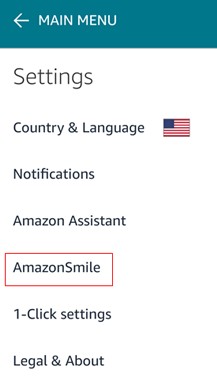 2) Select AmazonSmile and type in Washington County Family YMCA
Select the Washington County Family YMCA as your charity and your app will switch over to always be the AmazonSmile App.

Kroger Community Rewards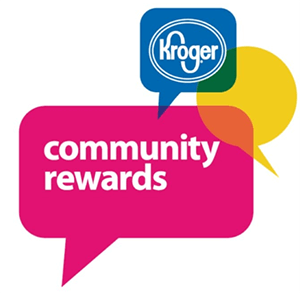 Kroger Community Rewards is a way to give back to an organization in your community, just by doing your grocery shopping at Kroger branded stores. All you have to do is create a Kroger account, link your rewards card to it, choose the Washington County Family YMCA as your recipient for the Community Rewards, then shop as normal. Every time you shop at a Kroger branded store, scan your rewards card and the YMCA will receive benefits straight from Kroger.
How to create a new Kroger account
1) Go to www.Kroger.com
2) Click "Create New Account"
3) Create an account using your email address and add your Kroger Plus Card # or Alternate ID to your account
How to Select the Washington County Family YMCA as your charity of choice
1) Go to www.Kroger.com
2) Sign-in with your email address
3) Go to "My Account" then "Community Rewards"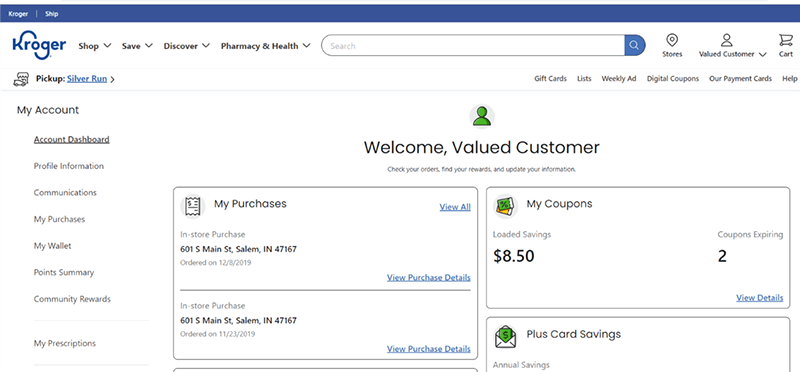 4) Type in "Washington County Family YMCA" or "JJ238" in the search bar. Click "Enroll"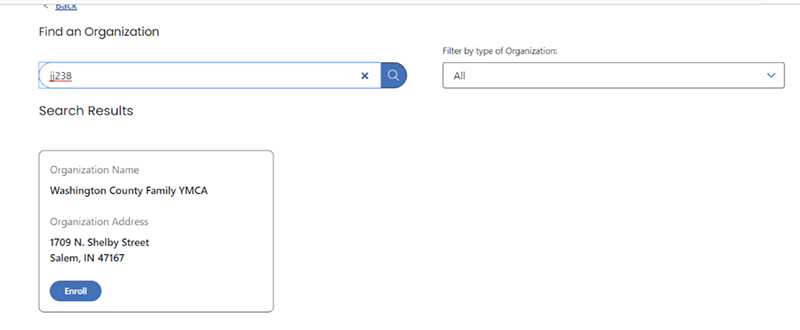 5) You are automatically giving back the YMCA every time you shop at Kroger and JayC Stores.