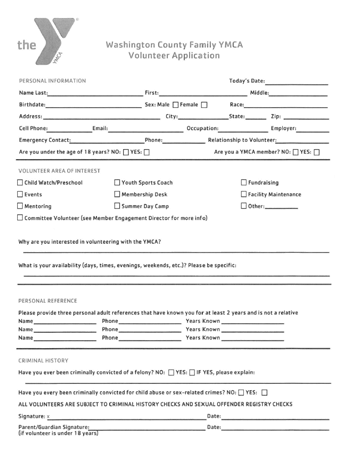 With a focus on youth development, healthy living and social responsibility, Y volunteers give men, women and children of all ages and from all walks of life the resources and support they need to be healthy, confident, connected and secure.
Click on the image for an application
Volunteer Opportunities at the Y
Lead
Fundraise
Coach
Motivate
Support
Advocate
Teach
Mentor
Create
Repair
Clean Up
Give
Anything you can dream...
Change a life, make an impact, connect with your community
Find out more about these volunteer opportunities:
THRIVE
Click here for more information on this Middle School Mentoring Program
Youth Sports Coaches:
Youth sports at the Y is possible because of our volunteers. Whether you know everything about a particular sport or not, we will teach you what you need to know to develop, encourage, and inspire our youth. We have Winter Rookie Basketball, Spring Soccer, and Fall Soccer. We also host clinics for sports throughout the year. If you would be interested in coaching during a season or running a clinic contact Hailey Jackson at This email address is being protected from spambots. You need JavaScript enabled to view it.
Special Events:
Healthy Kids Day, Substance Free Alternative Events held monthly, and Earth Day Community Clean-ups are just a few events held throughout the year that we encourage our community to be involved in.
Regular Programs:
Summer Day Camp, Preschool, Child Watch, Cooking Classes, and Family Nights. These are ongoing programs that we would always love to have an extra hand in. Whether you want to rock babies, engage elementary aged students in learning throughout the summer, or helping little ones learn their ABC's we would love to have volunteers join us in the important work we are doing in the community.