When joining the Y, you are joining a family that strives to strengthen community. Lasting personal and social change comes about when everyone works together. That's why at the Y, strengthening community is our cause. Every day, we work side-by-side with our neighbors to make sure that everyone, regardless of age, income or background has the opportunity to learn, grow and thrive.


Everyone is welcome at the Y. We are committed to breaking down barriers to help our community participate in our programs. Assistance provided is handled by the YMCA in a fair and consistent manner. Contact the YMCA front desk to receive your application.
Click here for a Financial Assistance Form

24/7 Access to Fitness Center*Members MUST BE 18 & older
Complimentary Group Exercise Classes (See our Fitness Calendar in the Menu)
Special member-only rates on programs
Safe and nurturing child watch program
Youth, Adult and Family programs
Nationwide access to all participating Y's (See below)
Complimentary Wellness Consultations
No Contracts
The Opportunity to Strengthen Our Community through VOLUNTEERISM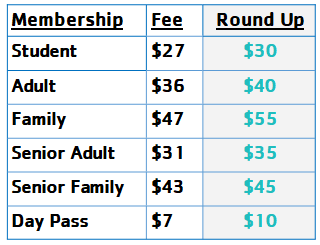 As a non-profit organization, the Washington County Family YMCA relies on donor funding each year. In 2021, the Y launched a ROUND UP campaign to help support programs used by members and non-members in our community. Your monetary gift will assist adults, preschoolers, seniors, and youth programming, as well as financial aid for memberships.
We believe that the YMCA is here for EVERYONE. Your ROUND UP dollars provide opportunities to develop a rich, lifelong focus on health, wellness, social responsibility and youth development. Your dollar WILL make a difference in the lives of others. Contact the Y's Front Desk Representative by stopping by the front desk or calling 812-883-9622 to begin your membership round up.
Click here to download the Round Up Campaign Flyer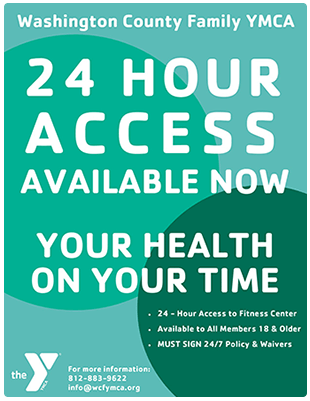 As a benefit to all members 18 & over, 24/7 access is just a brief orientation away! To get facility access visit the front desk at the Washington County Family YMCA. Thoroughly read and sign the 24/7 Policy and Waivers, walk through how to access the after hours doors with a Membership Representative then you'll receive facility access on your current membership scan card.

As a Y member with 24 hour access, you may use the Washington County Family YMCA Wellness Center at any time. Other areas of the Y will be staffed during advertised hours of operation, but once the Y closes, there will be no Y staff on hand to assist members. After staffed hours of operation, ONLY Washington County Family YMCA members over the age of 18 who have signed the 24/7 Facility Access Policy & Waivers will have access to the Fitness Center.
The Y has a strict honor code and zero tolerance policy. Guests and Nationwide Reciprocity Members DO NOT have access to the Fitness Center 24/7. If a member with 24/7 access allows a guest or Nationwide member into the facility after hours, said member will lose 24/7 access with a potential to have their membership terminated.

Must be a member of the Washington County Family YMCA
Must be 18 years or older

Nationwide Membership enables you to visit any participating Y in the United States through membership at your "home" YMCA (your home location is the facility that enrolled you as a member and that collects your membership dues).
We offer this because we want to help you reach your health and wellness goals wherever you live, work or travel. This is an essential part of our cause of strengthening communities.
What You Need to Know about Nationwide Membership:
Valid for active, full facility YMCA members
On a monthly basis, nationwide member visitors must use their home Y at least 50% of the time
Program-only participants and special memberships are not eligible for Nationwide Membership
Make sure the Y offers the services and amenities you plan to use
Bring a photo ID with you for your visit
You will be asked to sign a waiver when visiting another Y location