Virtual School Options

E-LEARNING LAB: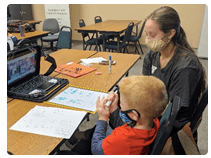 E-Learning Lab is available FREE to ALL Washington County middle and high school students! Free WiFi in the Y Lobby is available all hours the Y is open (social distancing required) as well as in the Learning Center Lab. Those using the CLC Lab will need to check in with the YMCA staff to sign a COVID-Safety Acknowledgement Form. The hours for the Learning Lab are 8am-3pm.
Click here for more information on the Learning Lab
OUT OF SCHOOL TIME CAMP:
The Out of School Time Camp is our solution for elementary aged students who don't normally have to use daycare during months while their children are in school. This solution is fee based, but as with all programs, the Y can work with each family if financial assistance is needed. We will also be working with school and state partners to serve a healthy 5 component lunch and snack to all participants.
Click here for more information on Out of School Time Camp

Break Camps features daily physical activities, use of technology and Wii fitness games, a nutritious afternoon snack, literacy, STEM, character development and a whole lot of FUN! *Dates subject to change according to County School Calendars.
Day Camp is provided during school breaks for children ages 3-12 years (must be potty trained.) Our days at camp are filled with fun and engaging, hands-on activities, outdoor exploration and play, healthy living lessons, social interaction, healthy food and SOOOO MUCH MORE! Our enthusiastic staff is trained to promote a welcoming, caring, safe and fun environment.
We follow the Salem Community Schools calendar and provide camps during Fall, Winter, Spring & Summer Breaks. Follow for updates on each camp as they become available, as pre-registration is required. Other camps may be made available upon school cancellations.

For more information on youth sports contact Brittany Hobbs at This email address is being protected from spambots. You need JavaScript enabled to view it..